Having Fabry While in the Army Was Like Mixing Oil and Water
As a boy, I wasn't aware Fabry disease caused the many physical issues I experienced, such as a reduced ability to perspire (called hypohidrosis), intolerance to hot temperatures and strenuous physical activity, pain (acroparesthesia) from small fiber neuropathy, and chronic gastrointestinal (GI) issues (mainly diarrhea). I overheated easily, often displaying my beet-red face, fatigue, and decreased stamina.
With no plans after high school, a friend decided to enlist in the U.S. Air Force. Even though I was not physically prepared for the military, I said, "I'll join, too." We enlisted together at 18 years old in February 1973. Luckily, the physical demands of the Air Force were not too challenging.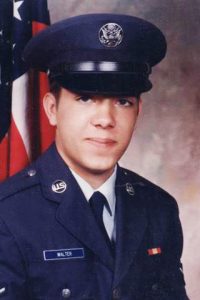 After basic training and technical school to learn my job as an aircraft weapons mechanic, I served seven years in Europe before leaving the military to return home in 1980. Despite my initial reservations about joining the military, I met the physical demands of my job and passed the annual physical fitness tests.
Afterward, I took a couple detours, such working in Saudi Arabia as a defense contractor for three years. Then, I attended college at Michigan State University.
In 1986, after starting college, I joined the Army National Guard as a weekend soldier for another source of income and with the intention of attending the Army's Officer Candidate School (OCS) at Fort Benning, Georgia.
With Fabry disease, I'm not sure why I thought I could complete the OCS training. I was somewhat more physically fit but along with my ongoing issues with heat, strenuous physical activity, and significant gastrointestinal problems, I developed chronic lower leg edema, another common symptom of Fabry disease.
Unlike the Air Force, Army training was really difficult. I don't know how I survived! After the major training events (OCS and combat engineer training) in the beginning, I had several sporadic shorter training events with difficult physical demands throughout my career. The semiannual physical fitness tests, which consisted of a two-mile run, pushups, and situps, were always challenging.
At the Fort Benning OCS, we marched everywhere. We stopped to do pushups everywhere. We performed three-mile marches, five-mile marches, a seven-mile march, a 10-mile march, and then completed the grand finale, a 15-mile overnight march. I struggled to keep up with the fast pace of our marches.
By the time we finished the 15-mile march, I was redder in the face than I'd ever been. Several classmates around me were carrying something of mine. They carried my weapon (an M16 rifle), my load-bearing equipment with canteens attached, my shirt, and my helmet. I poured water over my head to stay cooler.
Near heat exhaustion, I lost control of my bodily functions. Fabry disease hypohidrosis and GI issues took their toll. With the help of my classmates, I completed the march. Several people didn't finish and were among those who did not graduate. My OCS class had a 30% attrition rate.
We also ran a lot. We completed several one-mile, three-mile, and five-mile runs. With all the marching and running, my lower legs and ankles developed severe pitting edema. I was hospitalized once with ice wraps and elevation for four days.
When I returned to my training, I asked if I was in danger of being removed from OCS for my absence. My training instructor said, "Let's see how you do on the five-mile run tomorrow." I completed the run. In December 1986, I was commissioned as a second lieutenant.
Later, I returned to active duty. During my 27 years of active duty service, I continued to struggle with the physical requirements. If I wasn't up to taking a semiannual physical fitness test on my assigned day, I asked for a temporary exemption allowing me to take a make-up test later.
When I visited the clinic to ask for the exemptions, the doctor always agreed I should not run with my swollen feet and ankles.
Later, when my heart, lungs, and hearing began to be affected by my disease, I avoided bringing attention to myself that could have derailed my career. On a few occasions when I could feel my heart missing beats, I parked near the emergency room at the base hospital and did pushups to get my heart back into normal rhythm.
At that time, the average age of death of an untreated male with Fabry disease was 41 years old. I was well past that age. What did I have to lose?
The other critical factor in surviving the Army was that after the initial difficult training events and a few additional ones with demanding physical requirements, I had a desk job.
I received a medical retirement as an Army colonel in 2011. Fabry disease and the Army are like oil and water!
***
Note: Fabry Disease News is strictly a news and information website about the disease. It does not provide medical advice, diagnosis, or treatment. This content is not intended to be a substitute for professional medical advice, diagnosis, or treatment. Always seek the advice of your physician or other qualified health provider with any questions you may have regarding a medical condition. Never disregard professional medical advice or delay in seeking it because of something you have read on this website. The opinions expressed in this column are not those of Fabry Disease News or its parent company, BioNews Services, and are intended to spark discussion about issues pertaining to Fabry disease.