Kidney Biopsy May Help Diagnose Female Fabry Patients, Case Report Suggests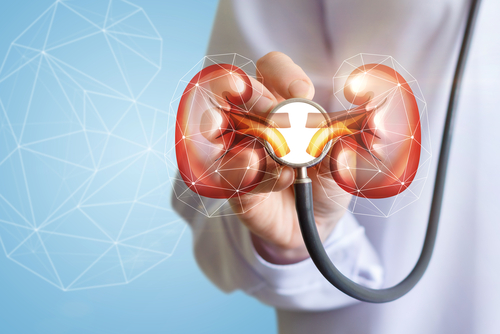 Kidney biopsies can be instrumental in diagnosing Fabry disease, particularly in females for whom symptoms can vary widely, a new case report contends.
The report, "A case of female Fabry disease revealed by renal biopsy," was published in CEN Case Reports.
Fabry disease is caused by mutations in the GLA gene, which contains the information necessary to make the alpha-galactosidase A enzyme, from functioning properly.
This enzyme is responsible for breaking down a type of fat called globotriaosylceramide (Gb3) into building blocks that the body's cells can use. When these fat molecules are not broken down due to lack of alpha-galactosidase, they build up inside the cells and cause damage.
Th GLA gene is located on the X chromosome, which is one of the chromosomes that helps determine biological sex.
Because males have only one X chromosome (and one Y chromosome), they tend to have more severe Fabry. However, females have two X chromosomes; as such, they can have one copy of GLA that is mutated and one that functions normally.
This may lead to a wider range of clinical symptoms, which can make it difficult to properly diagnose the condition.
The new report details the case of a 69-year-old Japanese female who was referred to a nephrologist (kidney doctor) after the detection of abnormally high levels of protein in the urine (called proteinuria), which can be a sign of kidney disease.
The patient was generally asymptomatic, but did have a clinical history that included electrocardiogram (EKG) abnormalities, which led to a previous diagnosis of hypertrophic cardiomyopathy (HCM), a condition characterized by abnormal thickening of the muscles in the heart, when the patient was 43 years old.
A kidney biopsy was performed. Upon viewing under a microscope, several abnormalities in the patient's glomeruli (the cellular structures that make up the functional units of the kidney) were observed. Of particular importance, the toxic molecule that builds up in Fabry disease, Gb3, was detectable.
This led to a suspicion of Fabry disease, which was confirmed by further enzymatic and genetic testing. The patient was started on enzyme replacement therapy (ERT), but discontinued due to an allergic reaction.
"Although an alternative treatment, such as switching to agalsidase-alpha [Replagal], was considered, the patient refused to continue ERT any longer," the researchers wrote.
Additional screening of the patients' close biological relatives revealed a 12-year-old grandchild who carried the same mutation as the patient and thus was also diagnosed with Fabry disease. The grandchild was started on ERT, and is still on it as of the publication of the case report.
"Considering these results," the case report authors concluded, "we suggest that clinicians need to focus on conducting appropriate evaluations when female patients first show symptoms related to [Fabry disease], such as EKG abnormalities, female HCM, or proteinuria of unknown etiology, which may be initial signs of female ," [Fabry disease] the researchers wrote.
"Renal biopsy can contribute towards a correct diagnosis for … female [Fabry disease] patients," they said.