PRX-102 ERT Improves Kidney Function in Patients Treated With Replagal, Trial Shows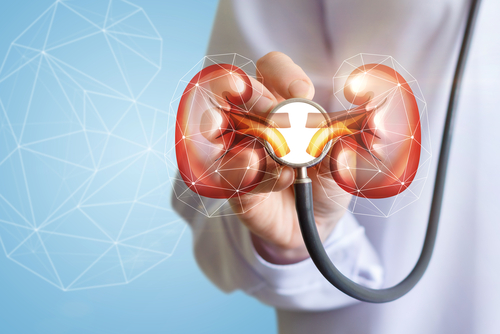 Treatment with PRX-102 (pegunigalsidase alfa), Protalix BioTherapeutics' investigational enzyme replacement therapy (ERT) for Fabry disease, led to significant improvements in kidney function in patients who had been previously treated with Replagal, according to top-line data from the BRIDGE Phase 3 trial.
PRX-102 is a man-made or recombinant version of the enzyme alpha-galactosidase A, which is missing in people with Fabry disease.
Like other ERTs for Fabry disease, PRX-102 works by increasing the body's levels of alpha-galactosidase A. That helps the patients' cells to break down a fatty molecule called globotriosylceramide (Gb3), effectively preventing its accumulation in different tissues and organs.
However, unlike other types of ERTs that are produced in animal cells, PRX-102 is based on Protalix's proprietary ProCellEx technology platform. That platform uses a plant cell-based system to generate recombinant enzymes.
The therapy's safety and efficacy has been investigated in the ongoing, open-label Phase 3 BRIDGE trial (NCT03018730). The trial enrolled adults with Fabry, ages 24-60, who were previously treated with Replagal (agalsidase alpha), an approved ERT marketed by Takeda Pharmaceuticals,
BRIDGE comprised 22 patients who had been receiving a stable dose of Replagal for at least six months, and who had completed at least two years of treatment.
Once enrolled, participants were screened for a period of three months, in which they were allowed to continue taking Replagal. Following this initial screening period, all patients were switched to PRX-102, which was given by an intravenous (into-the-vein) infusion, at a dose of 1 mg/kg, every two weeks, for one year.
Those who completed the trial were offered the chance to enroll in a long-term extension study and continue receiving PRX-102.
Interim data from the first 16 patients who completed the study showed PRX-102 was well-tolerated and effective at slowing the progression of kidney disease, which also often occurs in people with Fabry.
Now, Protalix has announced top-line findings from BRIDGE that include data from all 20 participants who completed the study. The other two patients who were enrolled in the trial withdrew due to a hypersensitivity reaction to the medication.
In line with the interim data, the new findings showed that treatment with PRX-102 continued to lead to significant improvements in kidney function in patients from both sexes previously taking Replagal. Kidney function was assessed by changes in the mean annualized estimated Glomerular Filtration Rate (eGFR), which measures the level of kidney function and determines a person's stage of kidney disease.
Yearly eGFR reductions of 5.90 mL/min/1.73m2 (square meters) in the overall population of patients while on Replagal were improved to 1.19 mL/min/1.73m2 after the participants completed a year of treatment with PRX-102. Similar improvements were observed for both men and women.
Patients who have yearly reductions of 3 mL/min/1.73m² or less are considered to have stable disease, while those who lose 3 to 5 mL/min/1.73m² are classified as having progressive disease. Those with annual reductions of more than 5 mL/min/1.73m² have fast-progressing disease.
Although remaining slightly elevated, reductions in the levels of globotriaosylsphingosine (lyso-Gb3) — a biomarker of Fabry disease — also were observed in all treated patients. There were reductions of 32.35% in males and 29.81% in females.
Additionally, safety assessments confirmed PRX-102 was safe and well-tolerated. All adverse events observed were only temporary and not associated with any type of long-term condition that was the consequence of previous disease.
A total of 18 patients out of the 20 who completed BRIDGE enrolled in the study's long-term extension and are currently receiving PRX-102.
"The completion of our Phase III BRIDGE study and its subsequent analysis mark a significant milestone towards our goal to establish PRX-102 as a new treatment option for Fabry disease," Dror Bashan, president and CEO of Protalix, said in a press release.
"We are encouraged that the BRIDGE study successfully met its main objectives for safety and efficacy, and we are further motivated to continue our work in progressing pegunigalsidase alfa," Bashan said.
In addition to BRIDGE, two other Phase 3 trials — BALANCE (NCT02795676) and BRIGHT (NCT03180840) — are currently evaluating the safety and efficacy of PRX-102 in patients with Fabry.
BALANCE is assessing PRX-102's ability to prevent renal function decline in Fabry disease patients who switched from Fabrazyme (agalsidase beta), an approved ERT marketed by Sanofi Genzyme. Interim results are expected in the first half of 2021.
BRIGHT is evaluating the safety, efficacy, and pharmacological properties of PRX-102, when administered once-a-month, at a dose of 2 mg/kg, in patients previously treated with Replagal or Fabrazyme. Final results from the BRIGHT trial are expected by the end of the year.
"Our BRIDGE study, together with our other two ongoing fully enrolled Phase 3 clinical trials, the BALANCE study and the BRIGHT study, represents what we believe to be the most comprehensive and robust Phase 3 clinical program for Fabry disease currently in progress," Bashan said.
"As the first of our three studies to complete Phase 3, we believe the BRIDGE study findings support that PRX-102 has the potential to be an important enzyme replacement therapy for the treatment of Fabry disease," he added.
Protalix, along with its collaboration partner, Chiesi Farmaceutici, is planning to submit a biologics license application (BLA) to the U.S. Food and Drug Administration through its accelerated approval program later this year. That BLA will request approval for PRX-102.
The document's submission suffered a slight delay due to the current COVID-19 pandemic and other undisclosed reasons. Protalix is expected to provide an update on the timing of the submission by the end of the month.